What is Every Door Direct Mail
Every Door Direct Mail® (EDDM®) is a service from the U.S. Postal Service® which allows businesses to target mailings to specific neighborhoods without needing to have a list of names and addresses.
There is No Permit or Mailing List required, just the above endicia needs to be printed on your mail piece
Postage is only 17.7¢ per piece
Mail pieces are oversized so your message get seen faster than smaller mail pieces

EDDM Eligible Size Postcards we have available
6.5 x 8
6.5 x 12
8.5 x 11

Mail is prepared for individual carrier routes and delivered to every address on the carrier's route: A postal carrier route is a group of addresses that receive the same USPS code to aid in efficient mail delivery. Postal carrier route codes are 9 digits: 5 numbers for the ZIP Code, one letter for the carrier route type, and 3 numbers for the carrier route code;for example, "92019C005" or "84604R009."
Click here to obtain carrier routes or just let us know which zip codes and neighborhoods you wish to target. We do the rest.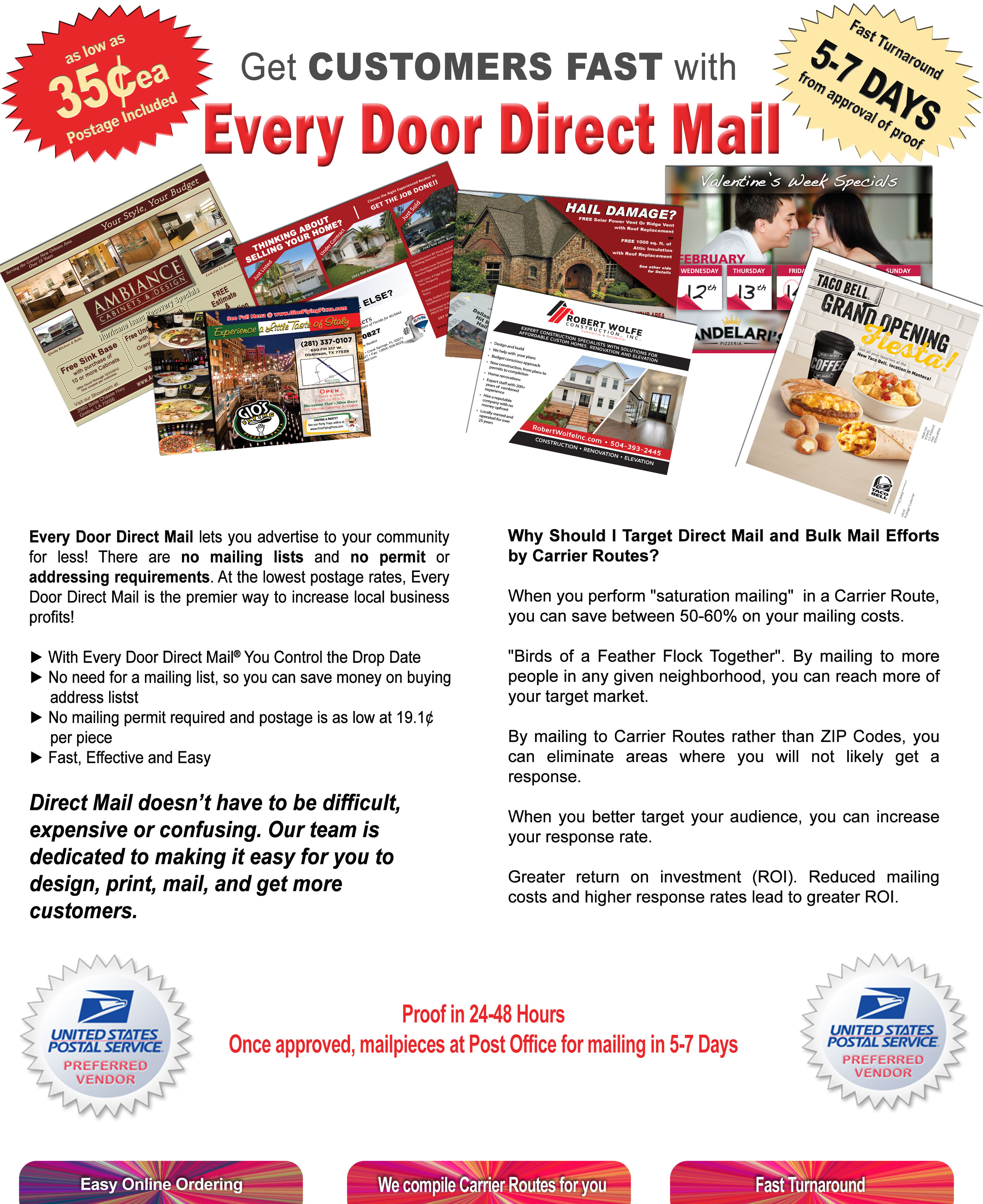 What is Every Door Direct Mail (EDDM)
United States Postal Service (USPS) mail is divided into zip codes and then subdivided into postal carrier routes. Each carrier route has between 400-800 deliveries in them.
Every Door Direct Mail (EDDM) allows you to send to individual Postal routes without need for mailing lists or a permit. (both of which can be very costly)
Postage is only 17.7¢ per piece
Postcards are oversized – not standard 4x6 or 5x7. We have many sizes (6.5 x 8), (6.5 x 9), (6.5 x 12), (8.5 x 11), (9 x 12)– All have the same postage rate (17.7¢). This ensures that your message will be seen first as they are larger than average size.

How to begin your EDDM Program and what will happen throughout the process:
►Step 1: Choose a Design we have, Upload Your Own Design or let us design a postcard for you.
Any design you choose on our website will be custom designed for your business.
Upload your logos and any pictures you wish us to add or change.
Wording changes or additions
No additional charges apply to any changes or additions.
All of the above information will be asked of you on the order page.
Send us a design you want or your own postcard if you have one already designed.
Choose "Upload your Own Design" Option
We will analyze your design and send proof in 24 hours.
NO JOB IS PRINTED WITHOUT YOUR APPROVAL.
LET US DESIGN YOUR CARD FOR YOU
Design Prices range from $99.00 - $199.00 depending on size.
4 Sizes to choose
You will be asked to provide information for the front and back of your postcard.
An option to upload logos, pics, etc is also available.
Proofs are provided in 48-72 hours.
No job is printed or mailed without your approval.
You will be asked on the order page to provide us with the zip code/codes, neighborhoods or subdivisions you wish to target
We pull the demographics of each carrier route in your target location and send you a list with maps of carrier routes for your approval before we mail.
You know the area better than we do, so please be specific on neighborhoods and subdivision or street addresses.
Find Carrier Routes at USPS Website: Click Here
►Step 2: Proofs are provided in 24-48 hours.
No job is printed without your final approval.
►Step 3 - Approve Carrier Routes and Postcard Design
We will then print job
Postal Paperwork and bundling of postcards
In 5-7 working days, your job will arrive at appropriate post office for mailing
You will receive 5 copies of postcard via USPS for your records. You will see a small shipping charge at checkout for this.
We accept M/C, Visa, Amex, Discover, Pay Pal or Checks
► We are available to answer questions Monday - Friday 8am - 6pm CST. (936) 333-6400